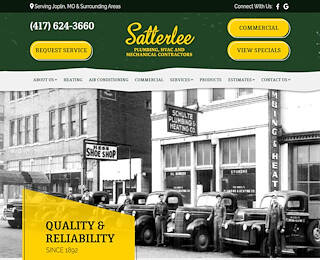 Who do you trust for heating and air conditioning in Webb City, MO? If you don't already have a reliable Web City heating and air company in mind for your HVAC repairs, reach out to Satterlee Plumbing, HVAC, and Mechanical Contractors for affordable service when your heater or AC is having issues. We're committed to providing our customers with an exceptional customer experience, saving you money in the process. Before you call any other HVAC company, reach out to us for over-the-phone advice from our specialists.
How to Know when to Fix, Repair, or Service Your AC: 3 Simple Steps
1. Do you know when your air conditioning system was first purchased? Determine the age of your system will be helpful in deciding whether to repair or replace your equipment. If it's been more than 10 years since its original purchase, call in Satterlee Plumbing, HVAC, and Mechanical Contractors to thoroughly inspect your AC. We'll provide you with our findings and offer a professional recommendation as to how you should proceed. If a replacement makes more sense, we'll let you know, but we'll always look for the most affordable solution to your AC problems.
2. Is the issue a minor one or a major problem.; in most cases, only an experienced AC technician can tell the difference. Again, Satterlee can provide you with peace of mind if you're not sure whether to repair or replace your air conditioner. We'll look at several different factors when making the determination, and talk over our findings with you, but the choice will ultimately be yours how you want to handle things. In most of the service calls we respond to, an affordable repair can resolve the problem.
3. Consider your budget. If you're not prepared to replace your air conditioning system, let our techs know and we'll look at alternatives to a replacement, such as maintenance, repairs, or upgrades. If you request a band-aid solution, we'll do our best to accommodate your wishes while you budget for a new system.
Reputable Heating and Air Conditioning Near Webb City, MO
We serve the greater Webb City community and surrounding areas with quality workmanship and a commitment to providing the best overall value when you need to hire someone for heating and air conditioning in Webb City. We know that breakdowns can occur at the most inconvenient times, and we do our best to minimize repair bills when unexpected problems arise.
If you have questions, need professional advice, or wish to schedule a free AC inspection, reach out to Saterlee Plumbing, HVAC, and Mechanical Contractors at 417-624-3660. Reach us by email through our website for routine repairs and upgrades. As you search for the best Webb City, Missouri heating and AC company, keep us in mind to restore your air conditioner to peak efficiency. Bookmark our homepage and contact us for emergency heating and air conditioning repairs, as well- we won't leave you waiting by the phone when you need an HVAC contractor.
Heating and Air Conditioning Webb City MO
Satterlee Plumbing & HVAC
+1 417-624-3660
3423 North Main Street
Joplin
MO
64801
View Larger Map